Orijen Original Dog Food
Spend

£75.00

to

FREE SHIPPING
Orijen Original is loaded with the protein-packed animal ingredients that Mother Nature evolved all Dogs to eat.


Carbohydrate-limited and grain-free to replicate your dog's natural diet, Orijen supplies healthful regional fruits, vegetables and botanicals - naturally rich in phytonutrients, B-vitamins and essential trace minerals.

Made with great care and pride, Orijen keeps your dog healthy, happy and strong.

85% MEAT | 15% FRUITS & VEGETABLES

Fresh chicken meat (13%), fresh turkey meat (7%), fresh whole eggs (7%), fresh chicken liver (6%), fresh whole herring (6%), fresh whole flounder (5%), fresh turkey liver (5%), fresh chicken necks (4%), fresh chicken heart (4%), fresh turkey heart (4%), chicken (dehydrated, 4%), turkey (dehydrated, 4%), whole mackerel (dehydrated, 4%), whole sardine (dehydrated, 4%), whole herring (dehydrated, 4%), whole red lentils, whole green lentils, whole green peas, lentil fiber, whole chickpeas, whole yellow peas, whole pinto beans, whole navy beans, herring oil (1%), chicken fat (1%), chicken cartilage (1%), chicken liver (freeze-dried), turkey liver (freeze-dried), fresh whole pumpkin, fresh whole butternut squash, fresh whole zucchini, fresh whole parsnips, fresh carrots, fresh whole red delicious apples, fresh whole bartlett pears, fresh kale, fresh spinach, fresh beet greens, fresh turnip greens, brown kelp, whole cranberries, whole blueberries, whole saskatoon berries, chicory root, turmeric root, milk thistle, burdock root, lavender, marshmallow root, rosehips, enterococcus faecium.

ADDITIVES (per kg): Nutritional additives: Zinc chelate: 100 mg.

The Orijen 80% meat range contains up to 7 meat sources in each variety and a whopping 38% protein. On paper this goes against everything we British nutritionists used to hold true, and yet the high protein and multiple meat sources have done anything but cause problems. As their legions of fiercely loyal supporters will testify, Orijen really works.

The idea behind Orijen is that dogs are essentially unchanged from their wolf ancestors and so should receive a similar diet - plenty of meat, some fruits and veg and no cereals. This is not a philosophy I entirely agree with - dogs for example may not have changed that much physiologically but their lifestyles are entirely different from wolves, and many dogs in the UK have been doing very well on cereal based diets for generations, but nevertheless, the quality of Orijen is obvious and the benefits to the dog are clear to see.

The quality and range of ingredients is very impressive. With 7 meat sources, all of which are of outstanding quality, a fantastic range of natural fruits, vegetables and nutritional supplements, nothing that could be described as a filler or a bulking agent and nothing remotely artificial, Orijen is about as good as it gets.

Although the price tag of a bag of Orijen can be eye watering, this really doesn't tell the whole story. Due to the abundance of high quality nutrients in the the food, you don't have to feed that much - in fact the recommended feeding amounts for most dogs are amongst the lowest around. This makes a bag last much longer and gives a surprisingly reasonable price per day.
View full details
Add an additional description to your product option. Ex: Size guides, and other common questions.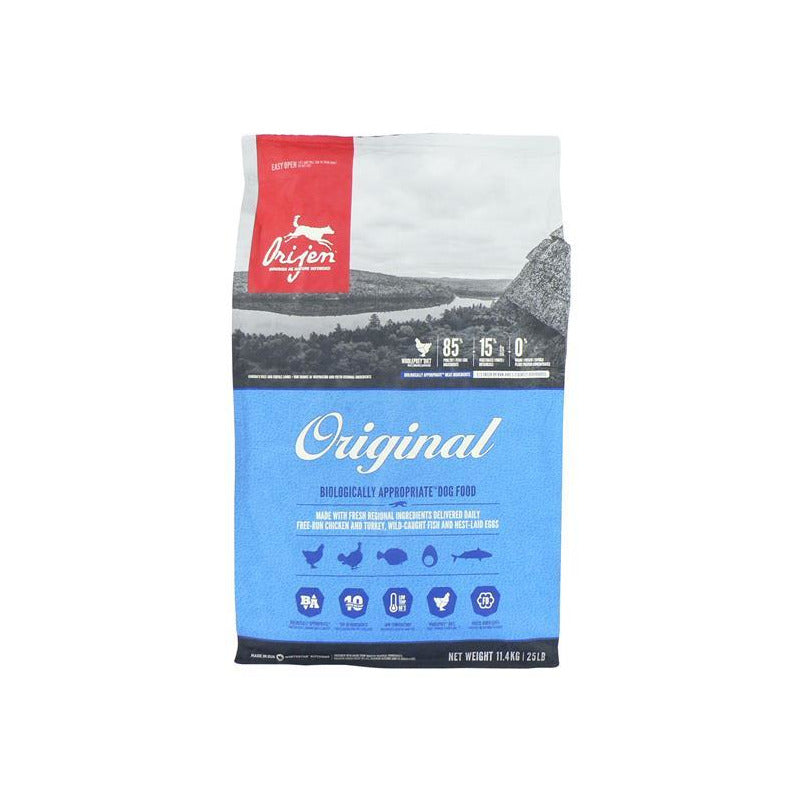 YOU MIGHT ALSO LIKE
Recently viewed products